A STYLISH LIVING
Door fittings are our passion. For us they are the jewel in the crown of the door. We love the different haptics of the forms and surfaces: angular, clear, cool and modern or cosy, softly cuddly. There is no element of our home that we touch more often every day. Our recommendation: Enjoy the variety, test, touch and find your personal door fitting.
Our door fittings are made of stainless steel, either matt or polished.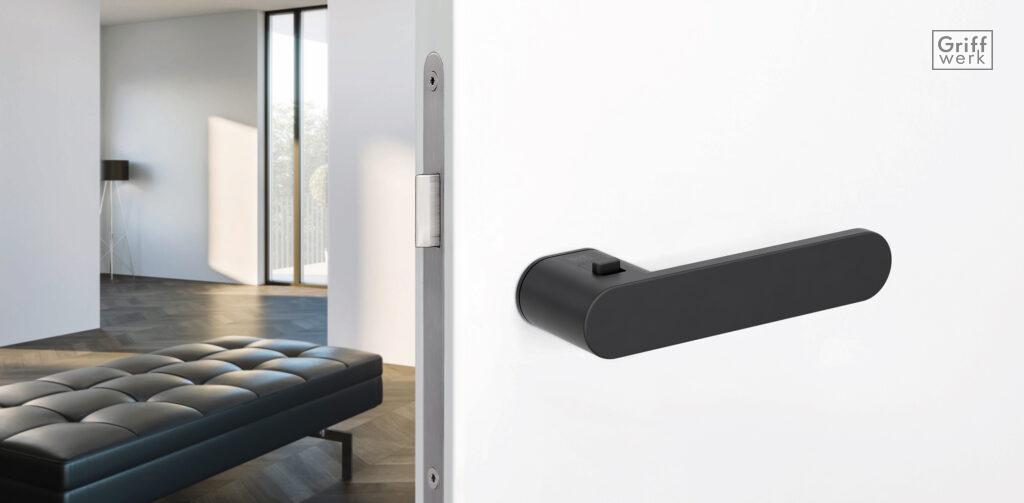 The elaborate surface polish gives the door handle a noble finish. In matt brushed stainless steel, on the other hand, the high-quality steel is particularly stylish. With GRIFFWERK, the fine lines of the grinding pattern dynamically follow the line shape of the design and thus support the aesthetic effect. Thanks to our extensive product range, you are guaranteed to find the right door handle for your home.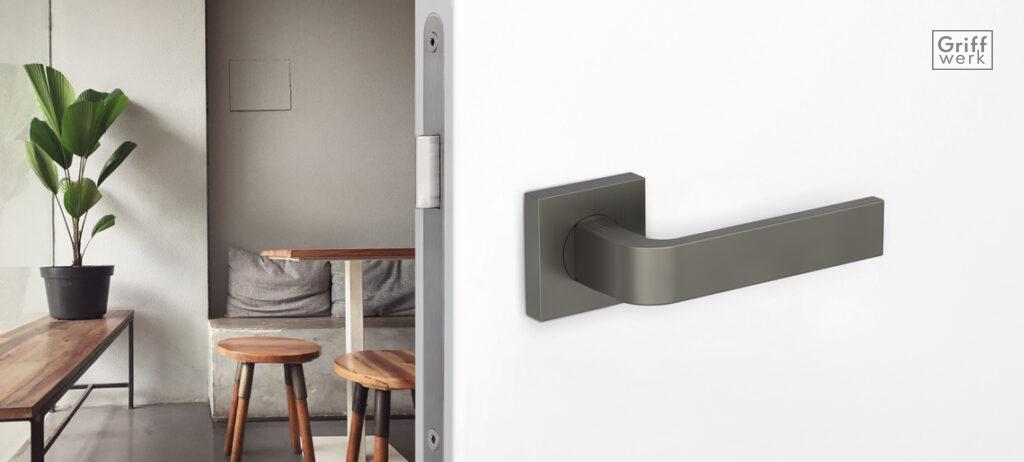 A MODERN LOOK
Combining different design styles creates tension and dynamics. Especially in old apartments, the accents of modern door handles have a stimulating effect. When choosing your door handle set, you can pick up details of the architecture or the interior. This creates a modern and harmonious overall effect.
SOFT2TOUCH: NOBLE LOOK AND VELVETY SOFT FEEL ‒ A SURFACE TO LOOK AT AND TOUCH.
For a pleasant feel when gripping, the surface is at least as important as the form itself. soft2touch combines a silky matt stainless steel finish with a velvety soft feel. Especially in the color cashmere grey, handles in stainless steel look with soft2touch are a daily luxury – for eyes, hands and every room door.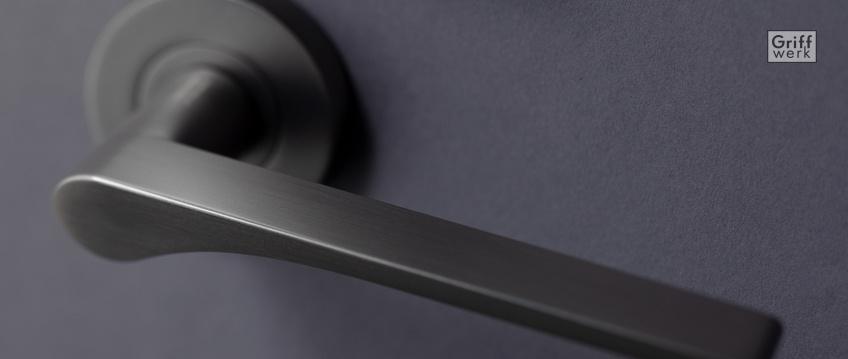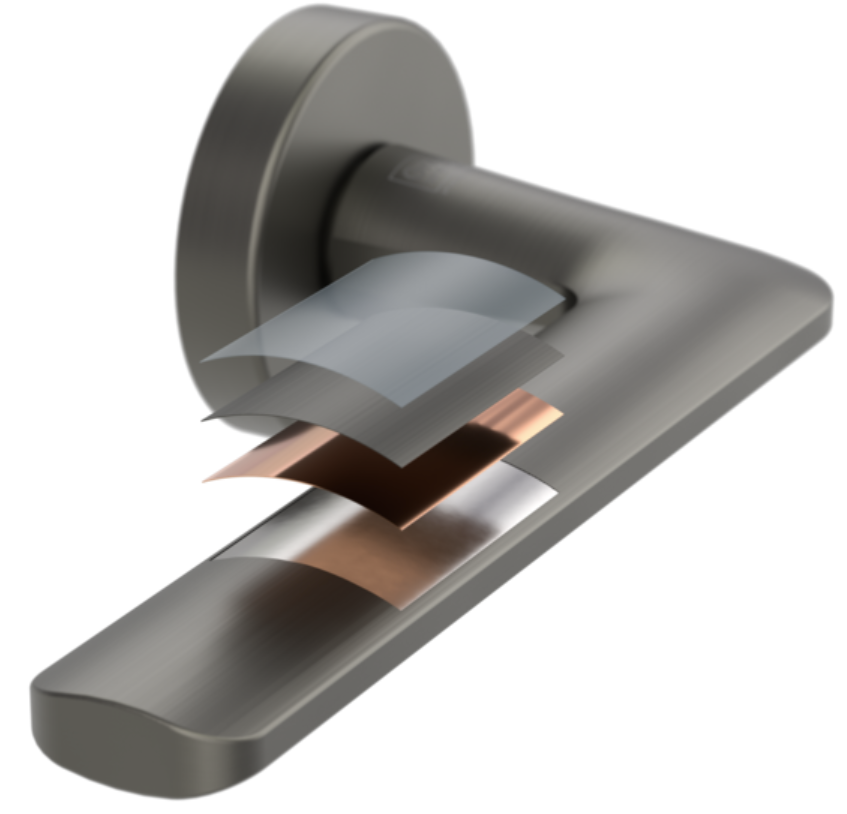 3. Protective sealing – brilliance, durability and protection against fingerprints
2. Pigment layer – selected colours, galvanic process
1. Carrier layer – brushed for a silky shimmer
The basis: cast zinc body – hard core without welding edges

IN THREE COLOURS
In addition to graphite black, there are two other colours to choose from: velvet and cashmere grey. What all surfaces have in common is their exceptional tactile quality. The three new colour shades were developed by GRIFFWERK and coordinated down to the last detail.
SMART2LOCK.
NEXT GENERATION PRIVACY.
BENEFITS AT A GLANCE.
Undisturbed with one click – privacy for every room
Comfortable 1-hand operation
Integrated locking systems
New door aesthetics without key rosette
Simple emergency unlocking
Compatible with any standard mortise lock
NEW: OCCUPIED EXTERNAL DISPLAY
You can immediately see if the door is locked by the red dot with integrated emergency unlocking. Unlocking can be done with a pointed object (e.g. ballpoint pen).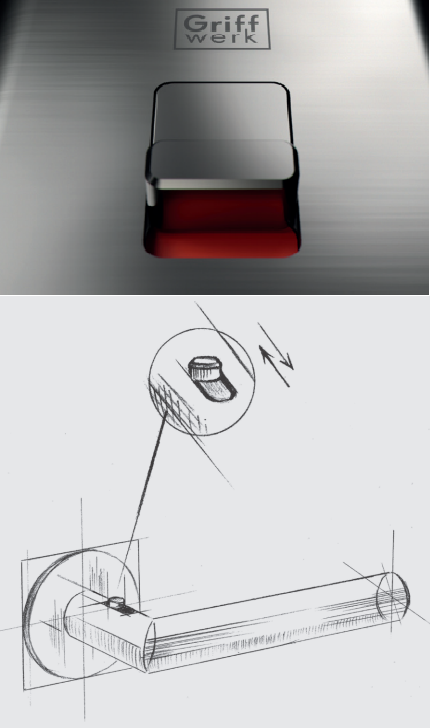 CLIP-ON TECHNIQUE
simple assembly in a few steps
invisible screw connection
maintenance-free, invisible slide bearing (no black ring on the door handle)
counterrotating M4 fitting
fixed pivoted door handle
pre-assembled door handle
double sided retaining springs
certified according to DIN EN 1906
SCREW-ON TECHNOLOGY
screw-on rosette in stainless steel
invisible screw connection and cut fine thread
maintenance-free, invisible slide bearing (no black ring on the door handle)
counterrotating M4 fitting
fixed pivoted door handle
pre-assembled door handle
double sided retaining springs
stainless steel substructure
PIATTA S – FLUSH OPTICS
flat rosette in stainless steel
invisible screw connection
maintenance-free, invisible slide bearing (no black ring on the door handle)
PRONTO-FIX quick mounting with grid lock
fixed pivoted door handle
pre-assembled door handle